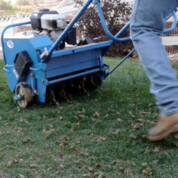 Seasonal Aeration:
Spring and Fall Service
Our aeration lawn service is arguably the most important service we provide. Aeration eliminates thatch in your lawn and help increase water absorption by breaking up the compacted Colorado soil. Proper nutrition is important for the lawn, and this starts with water absorption and the composting of thatch. For best aeration results, we recommend that you water the lawn deeply for two days before your scheduled aeration. Fertilizing at the time of the aeration is recommended for immediate release of nutrients. It is recommended to aerate twice each year, and the best times to aerate are in the spring and fall. Please contact us to schedule your spring aeration!

To keep your lawn looking good and thriving throughout the growing season:
Learn More About Our Seasonal Service Plans.

---
Please call Jarrod at 720-343-9845 or Contact Us today for a quote.